JOINT SUPPLEMENTS FOR DOGS
---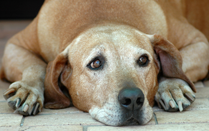 Buy Joint, Hip & Arthritis Care Supplements and Products for dogs online. We sell a wide range of dog joint care products including chews, tablets, gels, powders and liquids. We have the best brands in pet arthritis care including PAW (Pure Animal Wellbeing), NAS (Natural Animal Solutions), Pernaease Power, Joint Guard, Vets All Natural, Rapigel, Rose-Hip Vital and more.
It is very common for dogs to have joint, hip and arthritic problems as they grow older. In particular the colder months can be harsh on dogs as these problems are made worse with the low temperatures. The good news it that there are many things you can do to make your pet more comfortable. You can use a joint supplement or a mixture of different supplements to relief the pain and then strengthen the joints. You can also use heat mats, which help to improve comfort, especially in winter.
All types of dogs can get arthritis, however it is more common in larger breed dogs, as their joints have more weight to handle. Some of the most likely breeds of dogs to have joint issues are Bernards, Dachshunds, German Shepard's, Golden Retrievers, Great Danes, Mastiffs, Newfoundlands, Old English Sheep Dogs and Rottweilers.
Checkout with Visa, Mastercard, American Express, Afterpay or zipPay.