---
Description
This is a Husher for dogs elastic training muzzle. The Husher muzzle stops your dog from barking, but still allows your dog to pant, eat & drink. The husher is a cost effective way of putting a stop to your dog barking. It is similar to a regular muzzle, except elastic is added to allow your dog to carry on everyday life minus the barking.

For the Husher to be most effective, you must have the correct size for your dog. Once it is fitted correctly you will find the Husher to be very effective. Now you and your neighbours can be happy without the iritating barking thanks to the help of the Husher.

Husher Muzzle Size Chart
Husher Size 00 - Chihuahua
Husher Size 0 - Pomeranian/Yorkie
Husher Size 1 -Pomeranian/Toy Poodle
Husher Size 2 - Sheltie/ Jack Russell
Husher Size 3 - Sheltie/ Jack Russell/Schnauzer
Husher Size 4A - Doberman
Husher Size 4B - Beagle/Schnauzer
Husher Size 5 - Doberman/German Shepherd/Labrador
Husher Size 6 - Boxer/Standard Poodle
Husher Size 7A - Setter/German Shepherd/Labrador
Husher Size 7B - Rottweiler/Boxer
Husher Size 8 - Great Dane/ Bloodhound
Husher Size 9 - Rottweiler


More information from Husher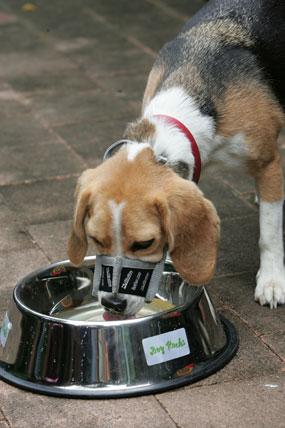 To get your dog used to wearing The Husher, leave it on for two minutes, remove it and then repeat several times. The time and frequency The HusherTM is used should be gradually increased until the dog accepts it. Once your dog is comfortable wearing The Husher you can begin to train and modify their unwanted behaviour.

Teach your dog a moderate verbal "Hush" command when wearing The Husher or displaying unwanted behaviour. If you find that you dog continues to bark or struggle whilst wearing The Husher, then try distracting your pet during the process by either playing with them or taking them for a walk.

Don't forget to praise and reward your pet when it behaves properly. Positive reinforcement is a good thing.

Helpful Husher Tips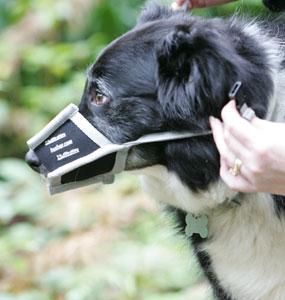 Dogs will vary in the time it takes them to get used to wearing The HusherTM. Make the experience of wearing The HusherTM a positive one and your dog will aceept it easily. Try some of the following tips:

Get your dog used to The Husher gradually. Put The Husher over your dog's nose and give your dog a treat. Take it off again and then put it back on, fasten it and leave for a few seconds. Reward your dog and take it off again.
For those dogs that are reluctant to wear The Husher, put it on the floor and allow your dog to sniff at it, but not to chew or bite at it. Put a treat on top of The Husher and your dog will associate The Husher with a pleasant experience. Do this several times before attempting to fit The Husher on your dog.
Gradually extend the time that your dog wears The Husher. Make wearing the training aid a positive experience for your pet. Try feeding your dog, giving your dog a treat or taking your dog for a walk while they are wearing The Husher.
If your dog attempts to take The HusherTM off, distract your dog by asking your dog to walk, sit or perform another activity. Reward your dog with treats, pats or praise when your dog leaves it on without complaint.
If your dog continually manages to take The HusherTM off, you may need to tighten the strap or consider a different size training aid.
Be prepared to devote anything from a few minutes to a couple of weeks to achieve your dog's acceptance of The Husher.

THE HANDLER IS RESPONSIBLE FOR THE ANIMAL'S SAFETY AND BEHAVIOUR AT ALL TIMES.

Fitting The Husher to your dog


Step 1.
Once you have The Husher with you, identify the top side of it for correct fitting. The top side has the word 'Husher' branded on it for easy identification. Slide the Husher, top side up, over your dogs snout so that it fits snugly. If it is difficult to fit then you should consider the next size up if it is too tight, or the next size down if it is too loose. An incorrectly fitted or wrong sized Husher will not change the unwanted behaviours of your dog. It is very important the correct size of the Husher is used otherwise the dog may not be able to pant, drink or eat. The Husher has the black elastic at the top which is slightly cut back so that it wont rub up against your dogs face.

Step 2.
Snap the buckle together behind your dog's neck and tighten the strap so that it is firm, but not overly tight. If you find that after pulling the strap tight, your dog still removes The Husher, then try wrapping the strap once around your dog's collar before you snap the buckle together.

CAUTION
Do not leave your dog unattended while wearing The Husher until you are certain it can pant and drink properly. Check your dog regularly.

Getting The Right Size Husher For Your Dog


The Husher comes in a range of sizes to fit all sizes and breeds of dogs. To find the right size for your dog you will need to take some simple measurements and compare them to The Husher sizing chart.

Step 1.
Using a piece of string, measure the circumference of your dog's snout by starting at point "A" and taking the string around your dog's mouth finishing back at point "A". This can be seen in the box below. Next, measure the distance (bridge length) from "A" to "B", which is also shown in the box below.

Step 2.
Click on the sizing chart image to enlarge and compare the measurements you have taken ("A" to "A") and ("A" to "B") against the sizing chart to select the correct size of The Husher for your dog.
Checkout with Visa, Mastercard, American Express, Afterpay or zipPay.
---
| | |
| --- | --- |
| SKU | HUSHERS |
| Brand | HUSHER |
| Shipping Weight | 0.1000kg |
---
Reviews
Be The First To Review This Product!
Help other PETZOO Australia users shop smarter by writing reviews for products you have purchased.
---
More From This Category