Cleaning Your Dogs Goods For Your Pets Health
Date Posted:9 October 2017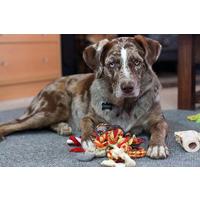 Do I need to clean my dogs goods? Cleanliness is more than a good idea. It needs to be more than good intentions. Life is busy and sometimes we must let some things go during our busy days and full schedules.

Pet Food Bowls and Pet Water Bowls, Fountains and Water Bottles
Sometimes cleaning the pet's food bowl, water bowl, water fountain or water bottles gets delayed. Did you know that the pet bowls are among the dirtiest items in the house? Pet bowls and water bottles should be washed daily in hot water using an antibacterial soap. Pet drinking fountains have moving water which keeps bacteria from setting in as quickly as in a bowl. However, fountains do get dirty and still should be cleaned once weekly with hot water and antibacterial soap.

Stainless steel and ceramic pet bowls are durable and made to last a long time. Plastic dishes will scratch, crack and break and need replaced as soon as you see visible wear as that's the perfect hiding spot for bacteria. Pet bowls need be replaced as they wear, break, crack or get chipped. Neglecting replacement could cause injury to your pet's mouth or tongue. These items are often easy to overlook. Fresh and clean water is vital to your pet's health.
Pet Toys
When's the last time your pet's toys were cleaned? Toys can collect dirt, bacteria, mold, yeast and hold a lot of germs. Hand wash toys with hot water and mild dish soap or if appropriate, some toys can be washed on a sanitize cycle in a washing machine. Check your pet's toys frequently and replace when they become damaged or chewed so much that a toy could cause injury to your pet. Keep ease of cleaning and durability in mind when selecting the best pet toys for your pet.
Pet Bedding
What about the pet bedding? Has it been cleaned or replaced recently? Washing your pet's bedding on a routine schedule is important. It will decrease pet odors. This will help you notice unwanted pests and keep them from becoming a problem. As you select your pet bedding, read the care label and remember hot water is going to clean and disinfect best if the product can tolerate it. Keep durability and ease of cleaning in mind as you select the perfect pet bedding. If your pet is a small animal with bedding that needs replaced, don't neglect this responsibility as it could make your small animal very ill.
Cleanliness is for your pet's health
Taking care of your pet's belongings can help your home have a fresh smell instead of a pet smell and even more importantly, it is healthier for your pet's health. Spend the time cleaning your pet's belongings as cleanliness can't be overlooked. Cleanliness is for your pet's health.
---
Leave a comment