NexGard Spectra for Cats Coming Soon
Date Posted:1 August 2023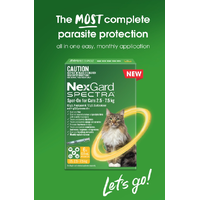 Boehringer Ingelheim Australia has announced that NexGard Spectra for Cats is coming soon. With the huge success of the flea, tick, heartworm and worming tablet NexGard Spectra for dogs, it is no surprise they are launching this product for felines.
NexGard Specta for cats will be a spot-on treatment and not a tablet like the dog version. It will be available in 2 sizes; for cats 0.8kg-2.4kg and cats 2.5kg-7.4kg. It will use the ingredients Praziquantel (treats adult fleas, ticks and mites), Esafoxolaner (treats tapeworms) and Eprinomectin (treats roundworms, hookworms, lungworms).
It can be used on kittens from 8 weeks of age and will start to work within 24 hours of application. Furthermore, it will be available in 3 packs or 6 packs. Each application will treat your cat for 1 month. It will treat cats for fleas, ticks, mites, roundworm, hookworm, lungworm and tapeworm infestations.
Although we do not have an official launch date of NexGard Spectra for cats, we are expecting it to be available to customers between September and October 2023.
---
Leave a comment