Black Hawk Salmon Dog Food Ceased Production
Date Posted:7 November 2018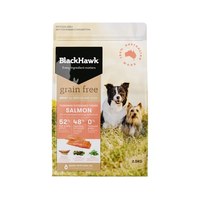 There has been reported issues with Black Hawk Grain Free Salmon Dry Food in the 2.5kg, 7kg and 15kg bags. Black Hawk Pet Care has currently stopped production of this product. Some of the symptoms included diarrhoea and then blood in the dogs poo.
"Probably for about two days on the food, they both had really bad diarrhoea, and then blood. So we took them to the vet because obviously blood in the poo is never a good sign." said a Perth woman.
So far Black Hawk who are distributed by Master Pet in Australia have completed tests and they have all been within the normal ranges. They have however had a small number of similar complaints. They do not believe pet owners need to be alarmed but if they have had any issues recently they should contact them on 1300 657 279 or at customer.service@masterpet.com.
What We Know About This Black Hawk Food Issue
The food in questions is Black Hawk Grain Free Salmon Flavoured Dry Food in the 3kg, 7kg and 15kg bags.
A small number of complaints have been made about this particular food making their dogs sick.
Sickness includes diahorrea and blood in poo.
All tests done on this product have come back within normal ranges.
No other Black Hawk products have been reported to be causing issues.
There has been no production of this food for over a month now and new stock has not been going into pet stores.
We have been told that the reason they have not been currently making this product is due to supplier issues with sourcing the Salmon.
To contact Black Hawk Pet Care with any issues on 1300 657 279 or at customer.service@masterpet.com.
---
Leave a comment