Top 10 Dog Instagram Threads Accounts
Author: Jon Wakefield Date Posted:19 July 2023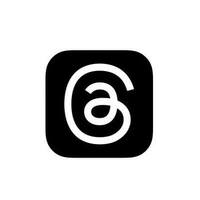 Instagram Threads has been around for less than a week yet and has had massive traction with 30 million downloads on the first day. The best part of Threads is we are seeing unique and interesting content. This includes content for dog lovers. We have scoured Instagram Threads and found the best 10 dog accounts on the platform that you should follow if you are a lover of cute dogs!
Top 10 Instagram Threads Dog Accounts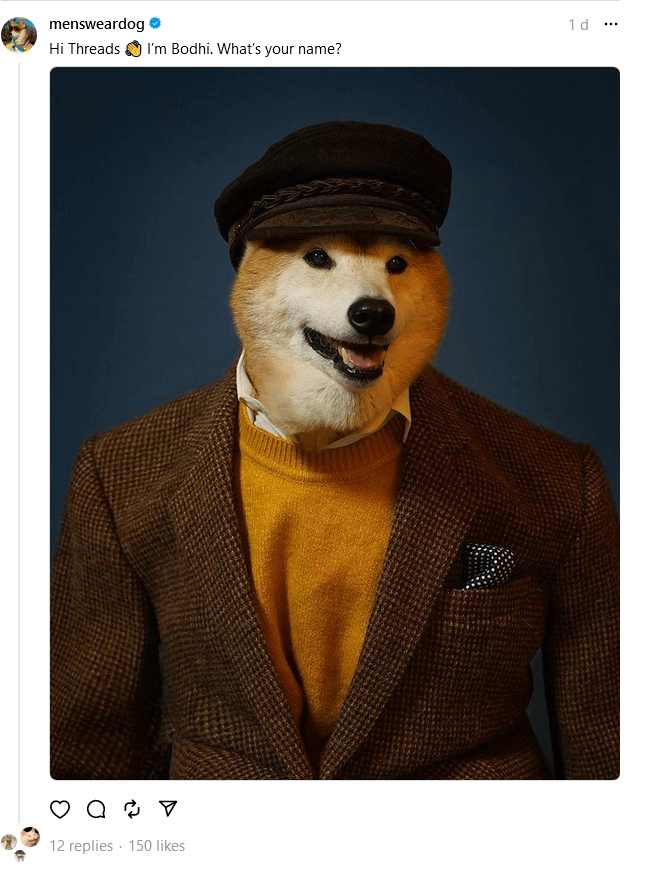 Menswear Dog, a Shiba Inu named Bodhi, is a fashion-forward pup. With his impeccable style and dapper outfits, he has amassed a following of 26,000 fashion enthusiasts.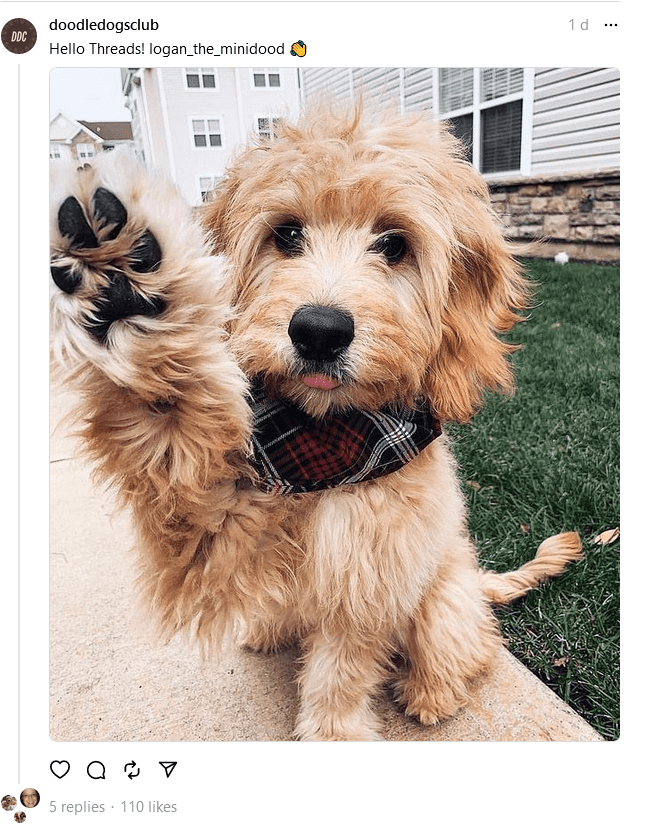 The ultimate destination for all things Doodle! Doodle Dogs are a vibrant and welcoming community on Threads with a following of 23,000 who are dedicated to celebrating the adorable and lovable world of Doodle dogs. From Labradoodles to Goldendoodles and everything in between, we're here to share the joy, cuteness, and unique personalities of these delightful crossbreeds.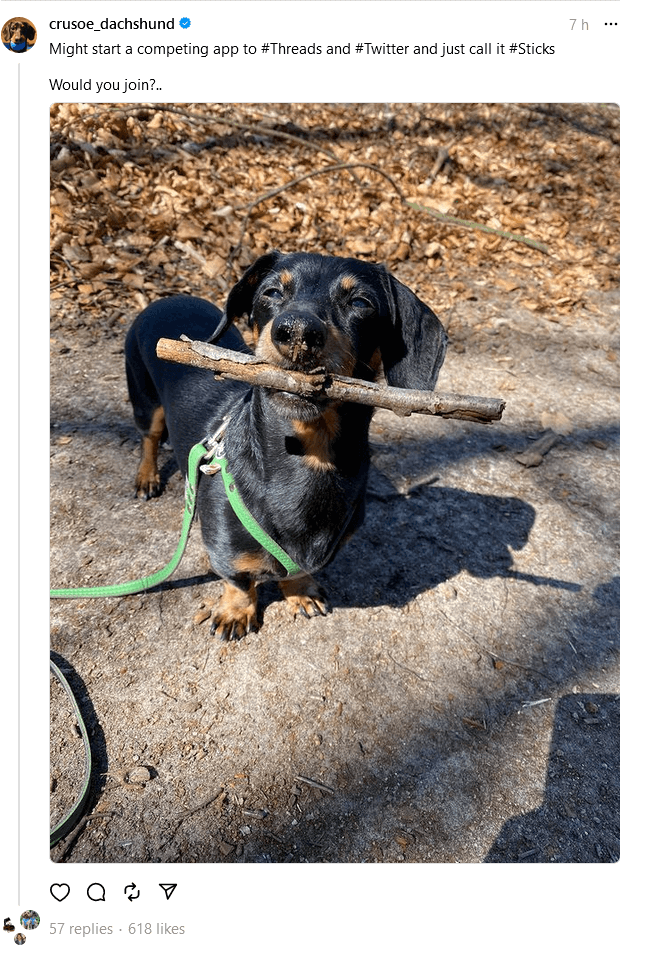 Crusoe the Dachshund is a social media sensation with over 42,000 Threads followers. This dapper pup showcases his creative costumes, funny videos, and travels, making him a fan favourite.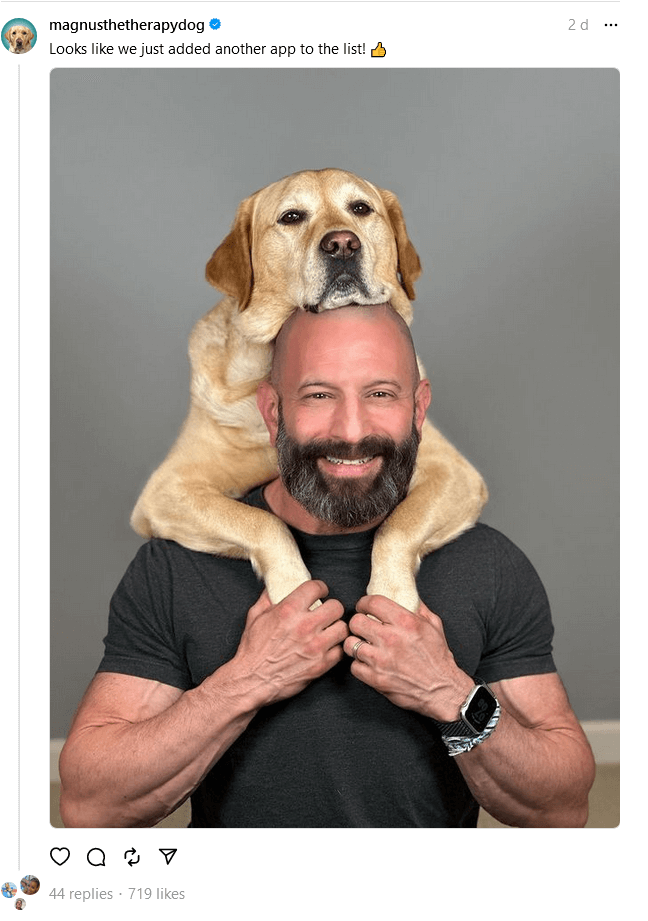 Magnus the Therapy Dog is a heartwarming Threads account with 66,000 followers is dedicated to sharing the incredible journey of a therapy dog and his impact on people's lives. Magnus, a gentle and compassionate Golden Retriever, brings comfort and joy to those in need through his therapy work. The account showcases Magnus engaging with individuals of all ages, from children to seniors, in various settings such as hospitals, schools, and nursing homes.
6. Harlow, Indiana and Reese (@harlowandsage)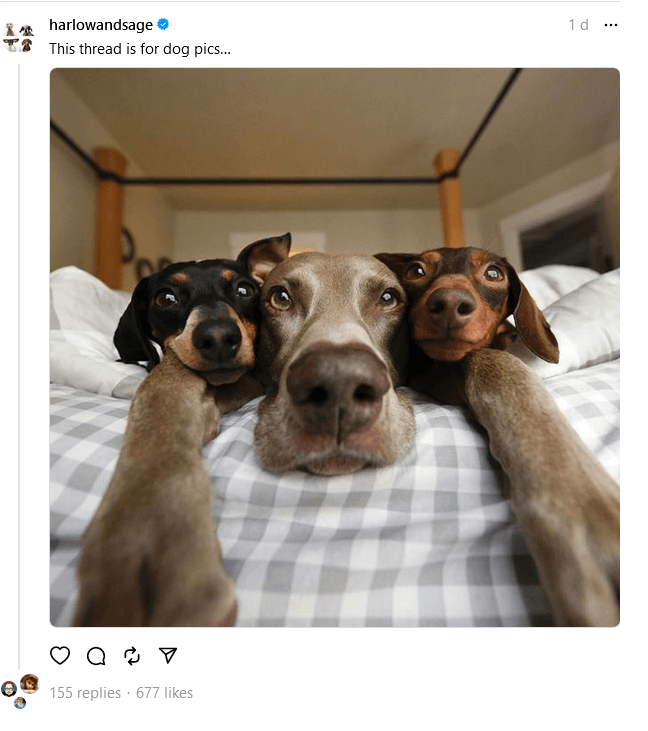 With 62,000 followers, this account celebrates the unique friendship between Harlow, a Weimaraner, and Indiana and Reese, two miniature Dachshunds. The account, filled with heartwarming images and videos of their adventures, reminds us of the beautiful bond animals can share.
5. Loki the Wolfdog (@loki)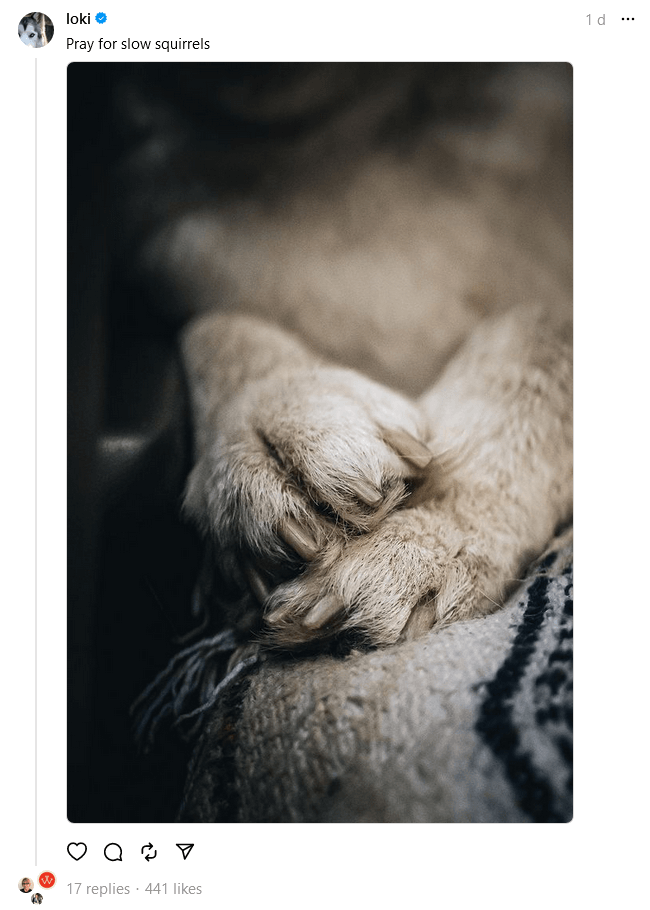 With 84,000 followers, a mix of Husky, Malamute, and Arctic Wolf, Loki is the epitome of an adventure dog. His account captures his wilderness adventures with his owner, showing off the beautiful landscapes of Colorado and beyond. If you love travel and dogs, Loki's account is a must-follow.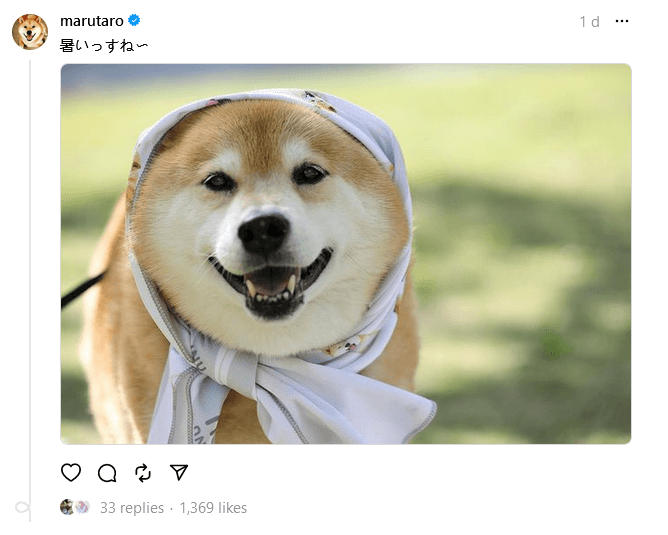 Maru is a Shiba Inu from Japan who has gained a massive following of 115,000. His expressive face and adorable outfits make his account an absolute delight to follow.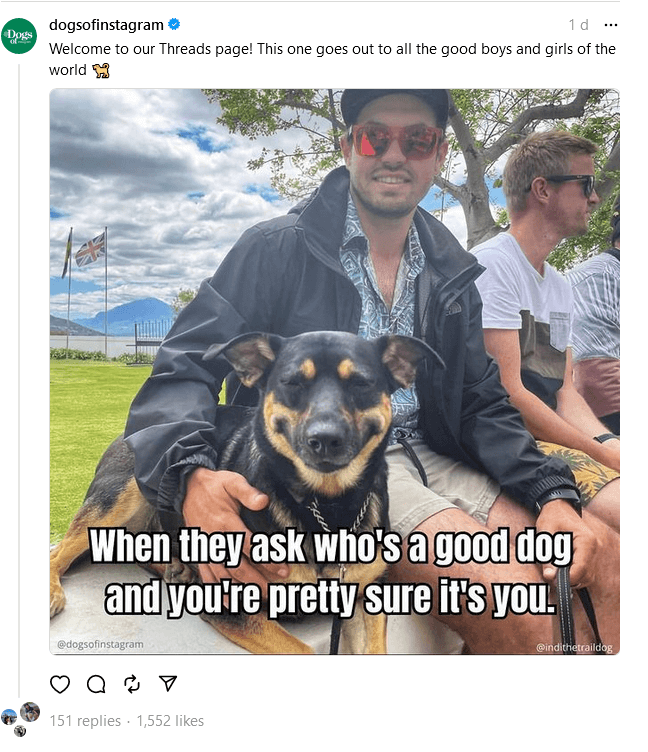 DogsofInstagram is another popular Threads account with 214,000 followers. Featuring dogs of all breeds and sizes, this account showcases the diverse and heartwarming world of our furry companions.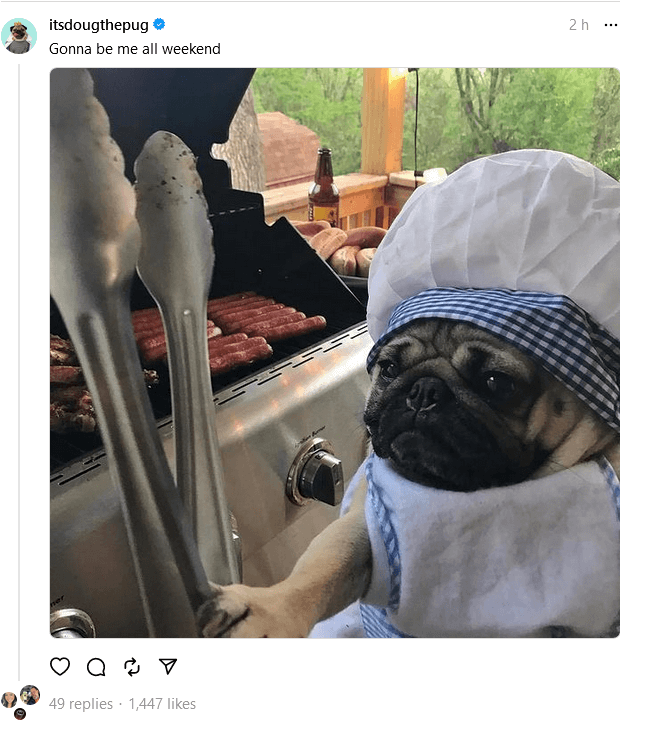 With 183,000 followers, known as the "King of Pop Culture", Doug the Pug is famous for his hilarious and often relatable videos. With his unique charm and lovable wrinkles, Doug's posts are bound to leave you chuckling.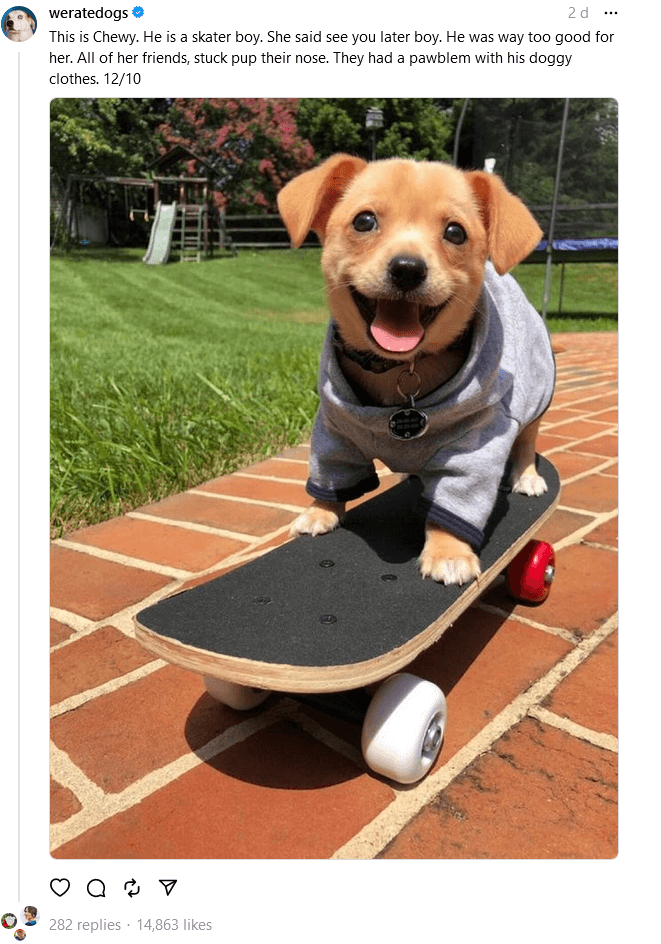 With 385,000 followers, WeRateDogs, is one of the most fun Thread accounts for dog aficionados. People submit pictures of their pets and this account will rate them in a fun way.
Find us on Instagram Threads @petzoo_au