6 Simple Tips For Keeping Your Pet Safe On New Years Eve
Date Posted:31 December 2017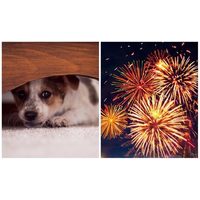 New Years Eve can be a stressful time for pets and their owners. Fireworks celebrations late at night can be scary for animals, as the loud unknown noises can cause anxiety. Also being thunderstorm season, there is always the threat of bad weather with loud thunder and lightning which may also cause stress to your pet. With thousands of dogs & cats escaping each year, so we have compiled a list of tips for making sure your pet is safe this New Years Eve.
6 Tips for Pet Owners this New Years Eve
Use a pet calming product on the day and night of New Years Eve. This can make a big difference in controlling your dog or cats stress levels during a time they are unfamiliar with. Pet calming products like NAS Calm, Zendog Calming Compression Shirt or Thundershirt to name a few.


Make sure all of your gates and doors are secure. If you have guests also let them know to keep any exit points locked to stop your pet from escaping.


Even if your pet does not use a collar at home, keep it on with their ID tag. This will provide a way to easily contact you in the chance your pet is gone.


Reassure your dog or cat if they are stressed out. Do not punish or be forceful with them, as this can make it worse. They are looking for comfort!


Give your pet a safe area. This might be a room, bed, couch, crate or area they are familiar and comfortable with. You want them to feel at home as much as possible to reduce their levels of stress.


We will also add to be on the lookout for pets that have escaped. What to do is I find an escaped pet and they do not have any means of identification? If you can take them in and post to your local pet lost and found Facebook group. Also you can contact a local vet to check their microchip the next day. If this does not work, you will need to call the council to help locate the owner.