SENTINEL FOR DOGS
---
Buy Sentinel Spectrum for dogs flea, heartworm and intestinal worm treatment online! Sentinel Spectrum flea and heartworm treatment for dogs is an easy to use chewable tablet which is given once a month. Sentinel for dogs is made by NOVARTIS Animal Health, who are well known for high quality pet medications. Sentinel controls fleas long term and flea allergy dermatitis. It prevents heartworm infection in dogs. It controls roundworm, whipworm, hookworm and tapeworm. We sell Sentinel Spectrum in 4 different quantities; single doses, 3 packs, 6 packs and 12 packs. Each tablet will last one dog for one month. Sentinel has 4 weight ranges for dogs, each weight range will have a certain coloured packet associated with it; Orange for very small dogs up to 4 kgs, green for small dogs 4-11 kgs, yellow for medium dogs 11-22 kgs and white/blue for large dogs 22-45 kgs.
The list of parasites Sentinel Spectrum does and does not protect your dog against.

| Product | Fleas | Ticks | Heartworm | Hookworm | Roundworm | Whipworm | Tapeworm | Ear Mites | Type |
| --- | --- | --- | --- | --- | --- | --- | --- | --- | --- |
| Sentinel Spectrum | Yes | No | Yes | Yes | Yes | Yes | Yes | No | Tablet |
Sentinel Spectrum for Dogs Information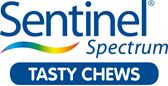 Buy in single dose, 3 pack, 6 pack or 12 pack.
Can be used on puppies from 6 weeks of age.
Prevents heartworm infection in dogs.
Controls adult roundworm, immature roundworm, adult whipworm, adult hookworm and adult tapeworm infection.
Provides long term protection and control of flea infestations and controls flea allergy dermatitis.
It does not kill adult fleas.
Comes as a tasty chewable tablets, each tablet will last 1 month.
Contains milbemycin oxime, lufenuron and praziquantel.
Waterproof all month from moment of treatment.
Dogs should be tested for heartworm before use.
To only treat for heartworm and intestinal worms see Interceptor Spectrum.
---
Checkout with Visa, Mastercard, American Express, Afterpay or zipPay.