FRONTLINE PLUS FOR DOGS
Buy Frontline Plus for dogs flea and tick control online! Frontline Plus for dogs treats fleas, flea eggs, prevents flea infestations, controls flea allergy dermatitis and controls biting lice. It also controls paralysis ticks and brown dog ticks for 2 weeks. Frontline is made by MERIAL, who are one of the most trusted companies in pet medicines. We sell Frontline Plus for dogs in 4 different quantities; single doses, 3 packs, 6 packs and 12 packs. Each capsule will last one dog for one month. Frontline comes in 4 weight ranges for dogs, each weight range will have a certain coloured packet associated with it; Orange for dogs up to 10 kgs, blue for dogs 10-20 kgs, purple for dogs 20-40 kgs and red for dogs 40-60 kgs.
---
Frontline Plus for Dogs Information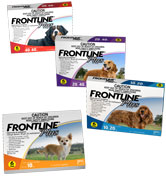 Buy in single dose, 3 pack, 6 pack and 12 pack.
Can be used on puppies from 8 weeks of age.
Kills all stages of fleas.
Controls brown dog ticks, paralysis ticks and biting lice on dogs & puppies.
Comes as liquid form in capsule (pipette), each capsule will last one month.
Contains the ingredients fipronil and methoprene.
Waterfast 48 hours after treatment.
You can also purchase Frontline Plus for cats.
---