COMFORTIS FOR DOGS
---
Comfortis for dogs is a chewable flea control tablet. Comfortis flea pills starts working within 30 minutes by killing fleas, preventing flea infestations and controlling flea allergy dermatitis. Comfortis comes as a small chewable flavoured tablet and is made of the active ingredient spinosad. It is administered monthly and given with a meal. This pet product is made by Elanco Animal Health, who also make Comfortis Plus for dogs. We sell Comfortis for dogs in 3 quantities; 3 packs, 6 packs and 12 packs. Each flea pill will last 1 month at a time. Comfortis has 5 weight ranges for dogs, each body weight range will have a certain coloured packet associated with it; pink Comfortis for dogs 2.3-4.5 kgs, orange Comfortis for dogs 4.6-9 kgs, green Comfortis for dogs 9.1-18 kgs, blue Comfortis for dogs 18.1-27 kgs and brown Comfortis for dogs 27.1-54 kgs. Buy Comfortis for dogs flea tablets online at the best and cheapest price!
What Does Comfortis for Dogs Treat
The list of parasites Comfortis does and does not protect your dog against.

| Product | Fleas | Ticks | Heartworm | Hookworm | Roundworm | Whipworm | Tapeworm | Ear Mites | Type |
| --- | --- | --- | --- | --- | --- | --- | --- | --- | --- |
| Comfortis | Yes | No | No | No | No | No | No | No | Tablet |
About Comfortis for Dogs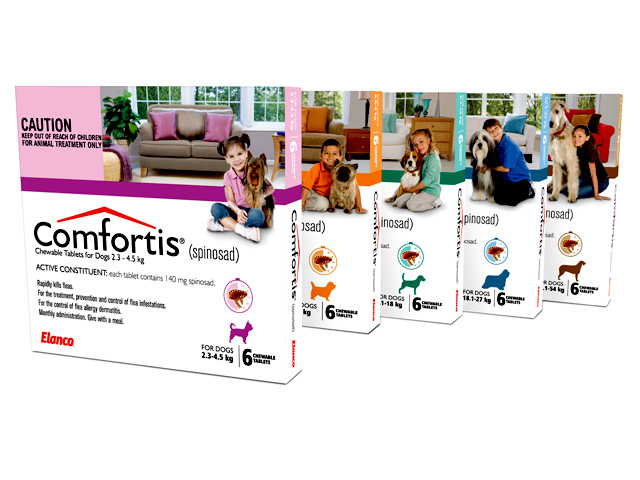 Comfortis is a small chewable tablet made with the ingredient spinosad.
Buy in 3 packs, 6 pack or 12 pack.
Comfortis can be used on puppies from 14 weeks of age.
Treats for fleas, flea infestations and flea allergy dermatitis.
Each Comfortis tablet last 1 month.
Store below 25 degrees Celsius.
Comfortis also produce Comfortis Plus for Dogs.
For instructions and safety directions see below.
We do not ship this product to the United States.
Buy Comfortis cheap online.
---
Comfortis Instructions and Safety
These are the label and instructions that are found in Australia's Comfortis for dogs packets. Comfortis for dogs is a flea control tablet.It is important that you read and understand the information about Comfortis before use. If you notice your pet have any negative reactions to using Comfortis, you should contact your vet or call Australia's poisons information centre at 13 11 26.
Active Constituent: Comfortis Chewable Tablets are available in 140, 270, 560, 810 and 1620 mg tablet strength for oral administration to dogs.

Comfortis Chewable Tablets are flavoured tablets and each tablet contains: Comfortis (spinosad) Chewable Tablets for Dogs 2.3-4.5kg: 140mg spinosad Comfortis (spinosad) Chewable Tablets for Dogs 4.6-9kg: 270mg spinosad Comfortis (spinosad) Chewable Tablets for Dogs 9.1-18kg: 560mg spinosad Comfortis (spinosad) Chewable Tablets for Dogs 18.1-27kg (40.1-60lbs): 810mg spinosad Comfortis (spinosad) Chewable Tablets for Dogs 27.1-54kg: 1620mg spinosad

Indications: 'Comfortis' rapidly kills fleas (Ctenocephalides felis) and is intended for the treatment, prevention and control of flea infestations and for the control of flea allergy dermatitis in dogs for one month following a single administration. Comfortis Chewable Tablets are not recommended for use in puppies less than 14 weeks of age.

Direcetions for use

Dosage and Administration: 'Comfortis' tablets are given orally, once a month at the recommended minimum dosage of 30 mg/kg body weight as specified in the following table:

Recommended Dosage Schedule:
| | | |
| --- | --- | --- |
| Body Weight* | Spinosad Per Tablet (mg) | Tablets Administered per Month |
| 2.3-4.5kg | 140mg | One |
| 4.6-9kg | 270mg | One |
| 9.1-18kg | 560mg | One |
| 18.1-27kg | 810mg | One |
| 27.1-54kg | 1620mg | One |


*Dogs over 54kg should be administered the appropriate combination of tablets.

Comfortis Chewable Tablets should be administered with food for maximum effectiveness.

General Instructions: 'Comfortis' has been demonstrated to rapidly kill fleas (Ctenocephalides felis): studies conducted have shown that Comfortis begins to kill fleas within 30 minutes of oral administration and kills 100% of fleas within 4 hours. Because it kills fleas quickly, 'Comfortis' controls flea allergy dermatitis too.

'Comfortis is a chewable tablet and is readily consumed by dogs when offered by the owner just prior to feeding. Alternatively, Comfortis Chewable Tablets may be offered in food or administered like other tablet medications. Comfortis Chewable Tablets should be administered at monthly intervals.

If vomiting occurs within an hour of administration, re-dose with another full dose. If a dose is missed, administer Comfortis Chewable Tablets with food and resume a monthly doing schedule.

Treatment with Comfortis Chewable Tablets may begin at any time of the year, preferably starting one month before fleas become active and continuing monthly through the end of flea season. In areas where fleas are common year-round, monthly treatment with Comfortis should continue the entire year without interruption.

As 'Comfortis' is an oral product, there are no restrictions with regards to swimming or washing after treatment. The dog can be treated while it is wet and can be exposed to water immediately after treatment.

Additionally, there is no requirement to exclude the dog from access to any furniture or home fittings. As the product is inside the dog it cannot damage any surfaces or other materials in the home.

To minimize likelihood of flea reinfestation, it is important to treat all animals within a household with approved flea protection product. Where a heavy enviromental infestation is present, the concurrent use of a registered environmental control product on areas such as bedding and carpet may facilate more rapid resolution of the flea infestation.

Precaustions: Comfortis should not be administered to puppies less then 14 weeks of age. Seek veterinary advice regarding use of 'Comfortis' in pregnant and lactating females and in dogs with pre-existing epilepsy. The safe use of COmfortis Chewable Tablets in breeding males has not been evaluated.

Contraindications: There are no known contraindications for the use of Comfortis Chewable Tablets. 'Comfortis' may be safely used in conjunction with topical tick treatments or collars as well as with gastrointestinal worm or heartworm treatments used as per label directions.

Storage: Store below 25c (Air Conditioning) and protect from light. Store the unused product in the original closed container. Refer to carton for batch and expiry information.

Disposal Dispose of empty containers by wrapping with paper and putting in garbage.
---
Checkout with Visa, Mastercard, American Express, Afterpay or zipPay.