CAPSTAR FOR DOGS
---
Buy Capstar for dogs flea control tablet online! Capstar is a small tablet that works to kill adult fleas on your dog quick. Capstar flea pills can be given to your dog each day or as you see fleas on them. Capstar is a great to use if you are taking your dog to a area where you know he/she may be exposed to fleas. Capstar flea tablets are made by NOVARTIS Animal Health and contains Nitenpyram. We sell Capstar for dogs in 2 different quantities; 1 box that contains 6 tablets total or 5 boxes that contain 30 tablets total. Capstar has 3 weight ranges for dogs, each weight range has a certain coloured packet associated with it; blue for dogs and cats 0.5-11 kgs and green for dogs 11.1-57 kgs. Buying Capstar for dogs flea control tablets online at a cheap price is made easy here with us!
The list of parasites Capstar does and does not protect your dog against.

| Product | Fleas | Ticks | Heartworm | Hookworm | Roundworm | Whipworm | Tapeworm | Ear Mites | Type |
| --- | --- | --- | --- | --- | --- | --- | --- | --- | --- |
| Capstar | Yes | No | No | No | No | No | No | No | Tablet |
Capstar for Dogs Information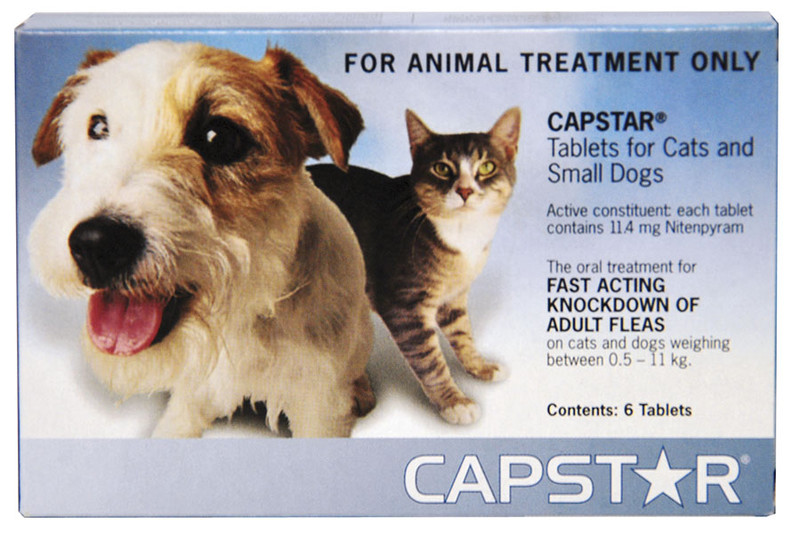 Buy Capstar for dogs in 1 box (6 tablets) or 5 boxes (30 tablets).
Capstar can be used on puppies from 4 weeks of age.
Kills adult fleas on dogs quickly.
Can be given daily or as you see fleas reappear on pet.
Comes as a small tablet that can be dosed directly into dogs mouth or with food.
Contains the active ingredient Nitenpyram.
Not for sale to customers in the USA.
Checkout with Visa, Mastercard, American Express, Afterpay or zipPay.