ADVANTAGE FOR DOGS
Buy Advantage for dogs flea control online! Advantage is a monthly flea treatment for dogs and cats. It is a easy to use topical application that contains the ingredient imidacloprid. Advantage for dogs is made by Bayer Health Care, who also make Advantage for cats, Advantix for dogs plus many other well known pet medications. We sell Advantage for dogs in 4 different quantities; single doses, 3 packs, 6 packs and 12 packs. Advantage has 4 weight ranges for dogs, each weight range will have a certain coloured packet associated with it: Green for puppies and small dogs up to 4 kgs, teal for dogs 4-10 kgs, red for dogs 10-25 kgs and blue for dogs over 25 kgs.
---
Advantage for Dogs Information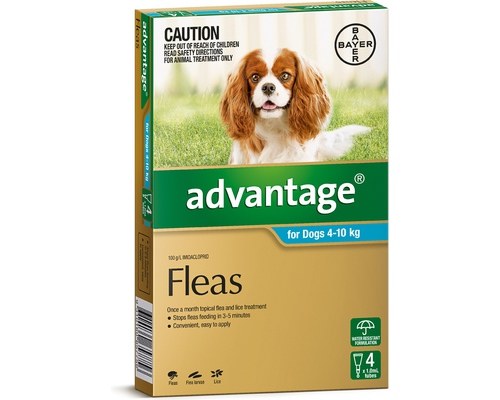 Topical Application.
Buy in single dose, 3 pack, 6 pack or 12 pack.
Advantage can be used on puppies from 6 weeks of age.
Kills fleas, flea larvae, reduces and flea allergy dermatitis.
Controls lice.
Water resistant for 1 month, 48 hours after application.
Contains imidacloprid.
Store below 30 degrees celcius (Room Temperature).
Made by Bayer Health Care who also make Advantage for cats, Advantix for dogs, Advocate for dogs and Drontal for dogs.
---