---
We stock a range of doors that are suitable for use with adult cats and kittens. We have pet doors to suit wood doors, glass doors, screen doors and more. Cat doors are a great to let your feline come and go as they please.
About Adding a Pet Door For Your Cat
Cats seem to thrive on being the boss of the household. One of their favourite games is standing in the open doorway, yelling at you while you yell back. "In or out! In or out!"

You can solve this problem by giving your King of the Household his freedom to enter and exit his realm as he pleases. Installing an automatic pet door will allow your cat to come and go. You can make the decision to lock the door and keep him in when you are leaving for a day or two. They are designed to keep insects out but let the cat pass through uninhibited. Install a pet door today and put an end to the arguments with your feline friend/foe!
What To Know Before Installing Your Cat Door
Cat doors can provide your cat with some freedom to get fresh air and eliminate outside in an area safely prepared for her. You can create a door nearly anywhere. They can be installed in a variety of places and are not limited to being installed in your existing door.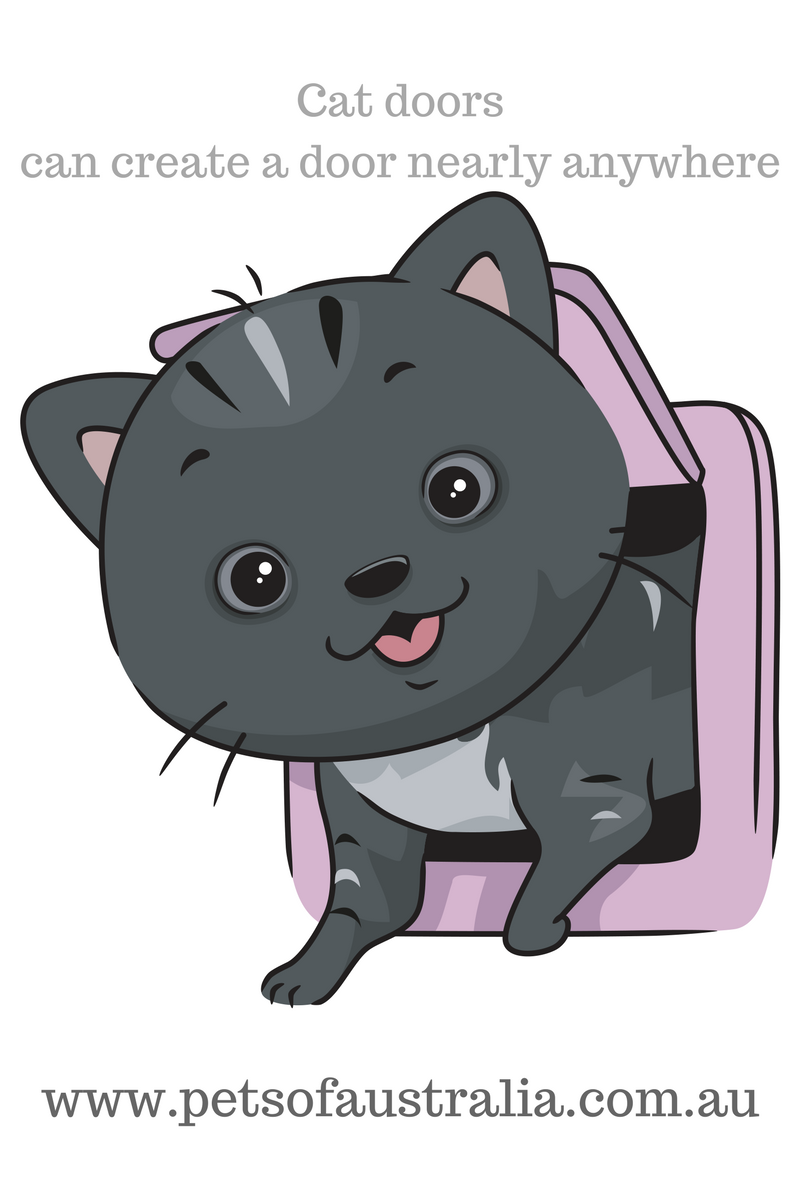 You can get creative with where you want your door to go. It can be installed to give access to a sunroom, an out of the way cabinet where you'd love to put the litter box or a closet. There are even options for windows and sliding glass doors which is great to consider especially if you are currently renting your home.
Installation
As you purchase your pet door, select your choice of the one for wall installation or for door installation. There's a large variety of cat doors so be sure to check the specs to be sure it is going to fit properly in your space.
Door Flaps
The cat door flap is designed for different purposes based on preference, environment and need. A weather proof door flap is going to weigh more than others as it's going to have magnets. If you are investing in an electronic cat door, you'll find the flap is made of acrylic plastic. The flap should move with your cat as it passes through the door. She shouldn't mind it after she experiences it a couple of times as it doesn't cause pain or harm. It may require patience and a lot of cat treats.
Energy Effective
A pet door is more energy efficient than the "big door" opening and shutting each time she wants to go out. It can allow a small amount of air to come into the house. To help keep the fresh air entering our homes at a minimum, look for doors with magnetic flaps to seal the bottom and sides or consider an electronic pet door as the door won't be "flapping" as your cat enters and exits.

Your cat will enjoy being able to walk out on her own without a lead & harness to get some healthy sunshine. Installing a cat door is convenient for you and your schedule. It can give you peace of mind that your cat's needs are met even when you aren't available.
Checkout with Visa, Mastercard, American Express, Afterpay or zipPay.